CNC Production Machining Services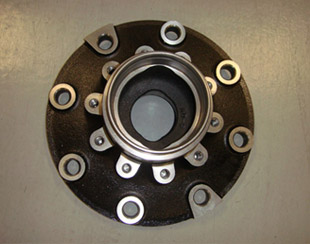 Computer numerical control (CNC) machining is a highly effective and efficient method of fulfilling high volume production orders for a diverse set of industries, including for the automotive and truck markets. The term "CNC machining" refers to any of the computer-controlled subtractive manufacturing processes used to remove layers of materials from a workpiece or blank to produce a custom-designed part or product.
Depending on the part design and specifications, manufacturers employ a variety of different CNC machines—including lathes, mills, routers, and grinders—to produce high-accuracy, high-quality pieces throughout the run and from one batch to the next. The integration of computerized controls in the machining equipment largely influences the level of precision and consistency achievable in a production run.
At Swihart Industries, we offer CNC machining capabilities that meet our customers' high volume manufacturing needs. Equipped with over four decades of industry experience and a newly expanded machining facility, our team has the expertise and equipment needed to produce precision machined parts and products in high volumes.
Stage of the CNC Production Machining Process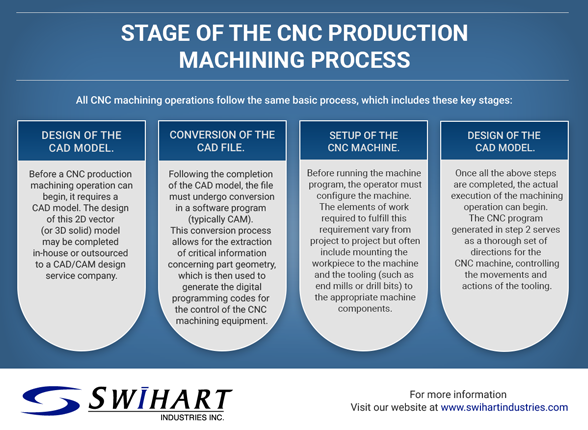 All CNC machining operations follow the same basic process, which includes these key stages:
Design of the CAD model. Before a CNC production machining operation can begin, it requires a CAD model. The design of this 2D vector (or 3D solid) model may be completed in-house or outsourced to a CAD/CAM design service company.
Conversion of the CAD file. Following the completion of the CAD model, the file must undergo conversion in a software program (typically CAM). This conversion process allows for the extraction of critical information concerning part geometry, which is then used to generate the digital programming codes for the control of the CNC machining equipment.
Setup of the CNC machine. Before running the machine program, the operator must configure the machine. The elements of work required to fulfill this requirement vary from project to project but often include attaching the workpiece to the machine and the tooling (such as end mills or drill bits) to the appropriate machine components.
Execution of the CNC operation. Once all the above steps are completed, the actual execution of the machining operation can commence. The CNC program generated in step 2 serves as a thorough set of directions for the CNC machine, controlling the movements and actions of the tooling.
Advantages of CNC Machining
When used in production operations, CNC machining offers several advantages, including:
Production of precise and accurate pieces
The use of computer-controlled machining equipment allows for greater reliability and a lower risk of production errors.
Elimination of scrap
As CNC machining operations occur with greater precision, part designs can be placed and processed closer together, contributing to lower material waste.
Increases in product quality and customer retention
The higher consistency afforded by the CNC machining process allows for better product quality and, consequently, improved consumer trust in the company's brand.
Improvements in throughput and profitability
CNC machines can operate for longer periods without breaks as they require little manual involvement. This quality allows companies to accommodate greater production volumes.
Enhancements in capabilities
CNC programs are compatible with several different software programs, allowing for greater design and production flexibility.
Our CNC Machining Capabilities
As an ISO 9001:2015 and TS 16949:2009 certified custom manufacturer, Swihart Industries delivers the highest quality CNC machined products. By choosing to partner with us, customers leverage the power of our expert staff and state-of-the-art CNC equipment.
Our machining facility is fully equipped with 3 and 4-axis CNC machines, including:
Horizontal machining centers
Horizontal turning centers
Vertical machining centers
Vertical twin-spindle turning centers
A multi-task lathe/mill (dual turning and milling spindle)
These machines allow us to produce high volumes of milled, drilled, and turned parts for a wide range of industries, including:
To learn more about our CNC production machining services, contact us today. If you're looking for a partner for your next machining project, request a quote from our experts.