CNC Machining Services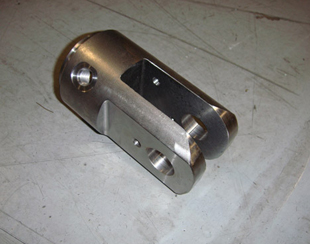 At Swihart Industries, we provide customers with precision CNC machining service. With over 40 years of experience and a state-of-the-art facility, our expert team has the skills and tools necessary to deliver the highest quality machined parts.
What Is CNC Machining?
Computer numerical control (CNC) machining employs computerized controls and software to operate machine tools. By using CNC machining equipment, manufacturers achieve higher levels of accuracy and repeatability in machined part runs.
Depending on the part or production specifications, manufacturers employ different types of CNC equipment. In general, the machines can be classified based on configuration or by the number of axes of motion.
CNC Machine Classification by Configuration
CNC machines employ spindles with either horizontal or vertical orientations. Horizontal machining centers are generally considered preferable for machining heavy parts, and for projects that require machining on multiple sides of a part. On the other hand, vertical machining is suitable for lower cost machining operations and certain machining processes, such as die sinking.
CNC Machine Classification by Axes
Machine centers can also be classified according to the number of axes of motion they accommodate. Most CNC centers machine along 3, 4, or 5 axes. 5-axis machine centers have the greatest range of motion and are considered superior for machining intricate parts to tight tolerances. They also enable manufacturers to perform complex operations in a single step, resulting in shorter production times.
Types of CNC Machining Processes
CNC machining is an umbrella term for all subtractive manufacturing processes that use CNC controls and tooling to remove material from a workpiece to create a part or product. Three of the most common CNC operations are milling, turning, and drilling.
CNC milling operations use a multi-point cutting tool to shape materials. These tools rotate and move across multiple axes, which allows them to create a variety of designs and features on the workpiece, such as cavities, threads, and slots.
CNC turning operations use lathes, which rotate workpieces at high speeds while stationary tools are applied to their surfaces. Types of turning can include contour turning, form turning, taper turning, and straight turning.
CNC drilling operations employ drill bits to create circular holes in the surfaces of the workpieces. By varying the angle or design of the drill bit, manufacturers achieve different effects.
Our CNC Machining Capabilities
At Swihart Industries, we offer a variety of precision CNC machining services. Our newly expanded facility, equipped with several 3, and 4-axis horizontal and vertical machining centers, allows us to provide the following production capabilities:
Machining operations: turning, milling, drilling, boring, threading, tapping, counterboring, countersinking, facing, broaching
Materials worked: ferrous metals, non-ferrous metals, and plastics
Part sizes: turning diameter: up to 31.5 in.; milling size: 59.5 in (l) x 31.5 in. (w) x 32 in. (h)
Part weight: up to 2,000 lbs.
Tolerances: as close as ± 0.0002 inches
Production volumes: prototype to production (specializing in high-volume production)
Lead time: 4–6 weeks for new orders, 1–2 weeks for recurring orders
Industry standards: ISO 9001:2015
In addition to our machining capabilities, we also offer several value-added services to facilitate the delivery of a fully finished product. These services include engineering, finishing, assembly, packaging, logistics and scheduling, inventory management, warehousing, and barcoding.
Over the years, we've produced machined parts and products for customers across a wide range of industries. For example, for the automotive and trucking industries, we've manufactured wheels, wheel hubs, and motor housings. In addition to these two industries, our diverse clientele comes from:
Energy
Food processing
Gas compression
Hydraulics
Transportation
To learn more about our precision CNC machining capabilities, contact us today. To partner with us for your next machining project, request a free quote with your project specifications.