Wheel Machining Services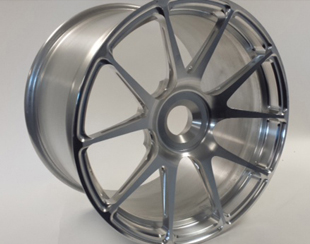 Precision-machined wheels are a necessity in many industries—particularly in the transportation and automotive sectors—but sourcing high-quality wheels can be a challenge. Swihart has more than 40 years of experience sourcing quality forgings and machining wheel blanks to a wide variety of specifications.
What is Wheel Machining?
Wheel machining is the process of machining a cast or forged cylindrical wheel blank into a specified design shape. Wheel blanks are typically aluminum, but Swihart works with a variety of materials, including ferrous metals like ductile iron or cast iron, as well as many non-ferrous metals and plastics.
Wheel Machining Processes
Wheel machining processes may include milling, drilling, turning, and a host of other CNC machining capabilities.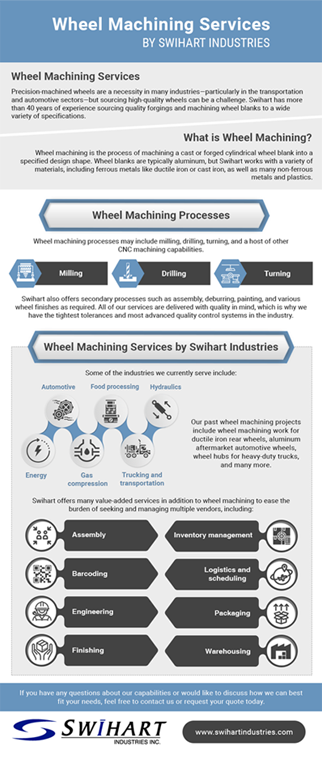 Milling. CNC milling uses a multi-point cutting tool that is capable of rotating on several axes to ensure flexibility during machining. This is useful when cavities, threads, and slots are required on the workpiece.
Drilling. Drilling is used to create holes of various types based on the specific drill bits and the angle of drilling.
Turning. CNC turning operations make use of a lathe to rotate the workpiece at a very high RPM while stationary tools are applied to its surface to cut and shape. At Swihart, we can accommodate a variety of turning processes, including contour turning, taper turning, form turning, and straight turning.
We also possess a variety of other CNC machining capabilities, such as:
Boring
Broaching
Counterboring
Countersinking
Facing
Internal and external threading
Tapping
Our capabilities include:
Turning diameter sizes

: Max 31.5"

Milled blank size

: 59.8" L x 31.5" W x 32" H

Part weight

: Up to 2,000 lbs.

Tolerances

within ± 0.0002"

Production volumes

: Small batch prototyping and high-volume production

Lead times

: 4-6 weeks for new orders, 1-2 weeks for repeat orders

On-time delivery

: 99.8% on-time delivery record
Compliant with ISO 9001:2015 standards
Swihart also offers secondary processes such as assembly, deburring, painting, and various wheel finishes as required. All of our services are delivered with quality in mind, which is why we have the tightest tolerances and most advanced quality control systems in the industry.
Wheel Machining Services by Swihart Industries
Some of the industries we currently serve include:
Automotive
Energy
Food processing
Gas compression
Hydraulics
Trucking and transportation
Our past wheel machining projects include wheel machining work for ductile iron rear wheels, aluminum aftermarket automotive wheels, wheel hubs for heavy-duty trucks, and many more.
Swihart offers many value-added services in addition to wheel machining to ease the burden of seeking and managing multiple vendors, including:
Assembly
Barcoding
Engineering
Finishing
Inventory management
Logistics and scheduling
Packaging
Warehousing
Contact Swihart Industries for Wheel Machining
At Swihart, our commitment to quality is a core aspect of our mission that produces lasting relationships with our partners. Our customers appreciate our fair pricing, low-tolerance machining, advanced quality control and inventory management systems, and on-time deliveries.
If you have any questions about our capabilities or would like to discuss how we can best fit your needs, feel free to contact us or request your quote today.